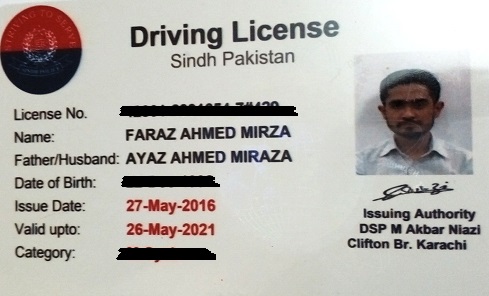 In 2013, I fell prey to dengue and lost one eye. Miraculously, Allah granted me a new life which produced a life changing impact on me and I decided to follow the righteous path in all life matters.
Soon after graduating and landing a job, I decided to file for my driving license. If you are a Pakistani, you know there are two ways to get the legal document:
To bribe the officers and give them around Rs.5000 – 7000 and get your license.
Apply for it legally and go through an unending/impossible/tiring/difficult procedure.
I had promised myself only to follow the righteous path; therefore I ticked off the first option immediately. I started working on the second option. After collecting the required information and forms from the website, I arrived at the driving license office joining the already long enough queue. The first step was to enter my information at the computer section and then I was to be examined by the doctors. Alas! It took no time for the doctors to realize that I was blind in one eye as I had done no efforts to hide this.
I was sent to the Police Hospital for re-examination. Now, I was a little afraid and found little hope that I will get my license. The doctors at the Police Hospital referred me to the Services Hospital, so I went there as well.
At the Services Hospital
After submitting my application, I was sent to the administrator, Mr. Memon to get his signature. He inquired about my problem. When I told him the truth, he signed my document and sent me to the Services Hospital. They examined me and yielded a simple report that I was blind in one eye and my other eye had a perfect vision of 6/6.
Now the decision of whether I could drive or not was in the hands of Mr. Memon. He chose to refer the doctor's examination and decided that I cannot drive because of my bad eye. I asked him whether the doctors' examination suggested that I could not drive or if there was any law that prohibits me from driving? Upon hearing this, he asked me to come after a week and he would show me the law.
During the week I researched on my own and discovered that UAE, UK, USA and India legally allow drivers to drive who have only one good eye. I decided to meet Mr. Memon fully prepared with my research. He failed to quote me a law, referring me to Civil Hospital and asked me to get examined from Professor Quraishy.
At the Civil Hospital
Finding Professor Quraishy, was a difficult enough task. I stood in long queues at the hospital's OPD but was unable to find him. I was depressed by the core and started believing that I was wasting my precious time for a mere driving license. One day, standing under the scorching heat I realized it was less about the driving license and more about right and wrong.
What triggered my motivation?
Each time I returned home failing to meet Professor Quraishy, I went into deeper disappointment. Meanwhile, Mr. Memom had become a supporting figure and I asked him if he could get Professor Quraishy in touch with me. He asked me to note down his number. During a turn of an unfortunate event, I lost his number and was deeply embarrassed to ask Mr. Memon again.
After a while, I received a call from Mr. Memon that he had given me the wrong number and provided me with the correct one. I was jubilant, as for me this was a sign that Allah helps those who are on the right path and He was looking out for me throughout this journey.
It was Mr. Hashmi's contact (Personal Assistant of Professor Quraishy).  He set my appointment with the Professor who examined me and deemed me fit for driving. Mr. Hashmi urged me to take an action regarding this issue. He shared that old Rikshaw drivers are sent to them and not granted license because of minor eye sight problems. Knowing that it is their only source of income, they often drive without licenses and then are troubled by the traffic police. There, I promised myself to fight against the system not only for me but for everyone who were deprived of the license.
The Hurdle
Now I had two fitness certificates by Professor Quraishy and Mr. Memon from Services Hospital. However, Mr. Memon showed me a clause in the motor vehicle act that it is written that:

A person should be able to distinguish with each eye.
This clause was a hurdle in my path but I convinced Mr. Memon to submit an application to change it on the basis of US, UK and Indian Laws. Seeing the fitness certificates from both Services and Civil hospital, Police Hospital also allowed me the fitness certificate and I was relieved that now I will be able to get my driving license easily. Alas, I was wrong.
I arrived at the Driving License Office with all the certificates, but here the doctors did not pass me in the examination. They asked me to come after a week while they research the local law. I was astonished how they were sitting in authority and were unaware of the laws. A girl also filed for the license on the same day but she was refused because of a similar problem. She went away saying,

I will drive the car without a license.

Well that's what most of us do when we get disappointed by the unnecessarily lengthy procedures of our government offices. However, I was still determined.
I went back again after a week and to my luck; there was a different doctor on duty that day. He understood the situation and went to DIG Traffic Police with me. Sadly, DIG did not accept the certificates and asked me to get them re-verified.
Now enters Inspector Khan*[1] who plays a villainous part in the story. He was the person responsible to write re-verification letter to the Police Hospital. He refused to do so and showed me the clause that I mentioned earlier that a person should be able distinguish with each eye.  He started producing rationale that alcohol is allowed in UK and USA but we cannot allow in Pakistan. I tried to put some sense in him that traffic laws should be universal.
I cleverly convinced him by showing another clause which was written on the later chapter of the motor vehicle act:

No fee should exceed two rupees.
I asked him to write the letter as the book was written in 1965 and it needed to be changed. He accepted to write the letter, but delayed the procedure for a long time.
Finally Police Hospital got the letter and re-verified my certificates and wrote the reply to DIG Traffic Police. Wait! The story is not over yet! I was back again at the driving license office and went to the doctor and unfortunately it was the other doctor who sent me back. He was clueless once again and asked me to visit the DIG myself.
At the DIG Office, his PA did not allow me to meet him. So I went to DSP administrator's office but he was in a meeting. After an hour or so, I got the chance to meet him. To him, I highlighted the key points on the other file which had the Motor Vehicle acts of USA, UK and India.
The Turning Point
DSP. Imran turned out to be a wonderful person, he understood the case and fortunately his eyes went to my other file and he saw the highlighted point that:

In the UK you are legally allowed to drive with only one good eye.

He took the file and read all my research and asked me to come back again after lunch break. Meanwhile, he met DIG Traffic police and convinced him to allow me the driving license by showing him all the research papers. I went there after the lunch break and he called the doctor in front of me and asked him to allow me to have the license and that they will change the motor vehicle act accordingly later. Cheers!
Finally, I received my driving license. When I held it in my hands it was a feeling like no other. I realized determination always pays off. To put in numbers, the procedure took around three months and more than 30 visits to different government offices.
What Impact Did It Make?
Now anyone can apply for a driving license even if they have one good eye. If the officials refuse you, take a stand and give them my reference at Driving License Clifton Office.
Always know that nothing is impossible. We just have to pursue our goals with full determination and believe in Allah. Remember that DSPs, DIGs are government officers who are there to serve us, not rule. If any official refuses you, ask them to show u the laws. Lastly, never give up, do your research, and always be prepared.
Fitness Certificates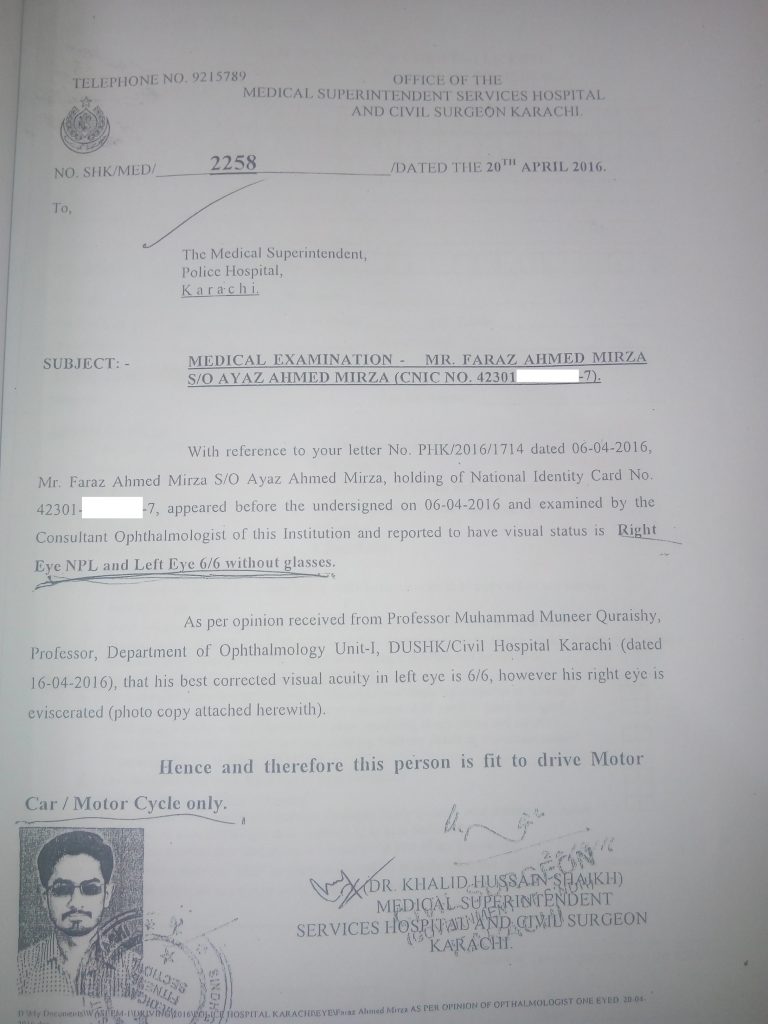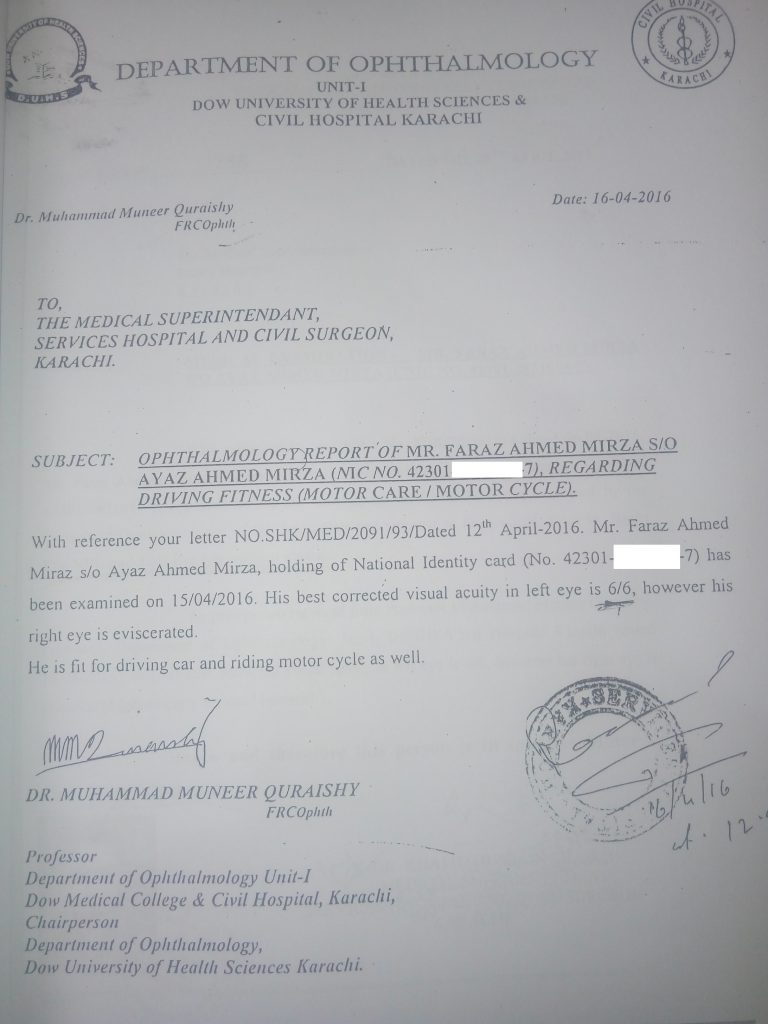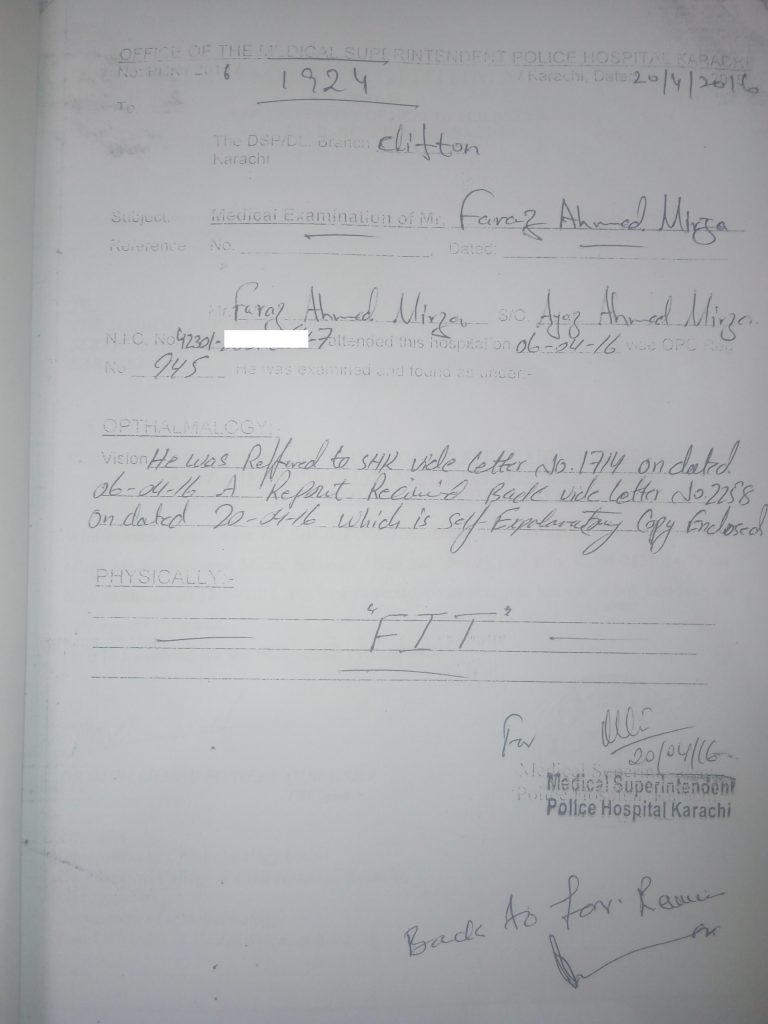 Laws of UK, USA and India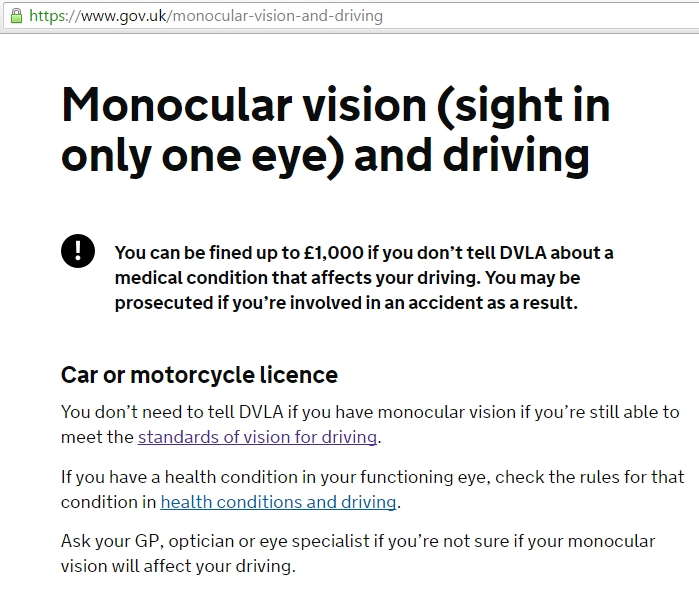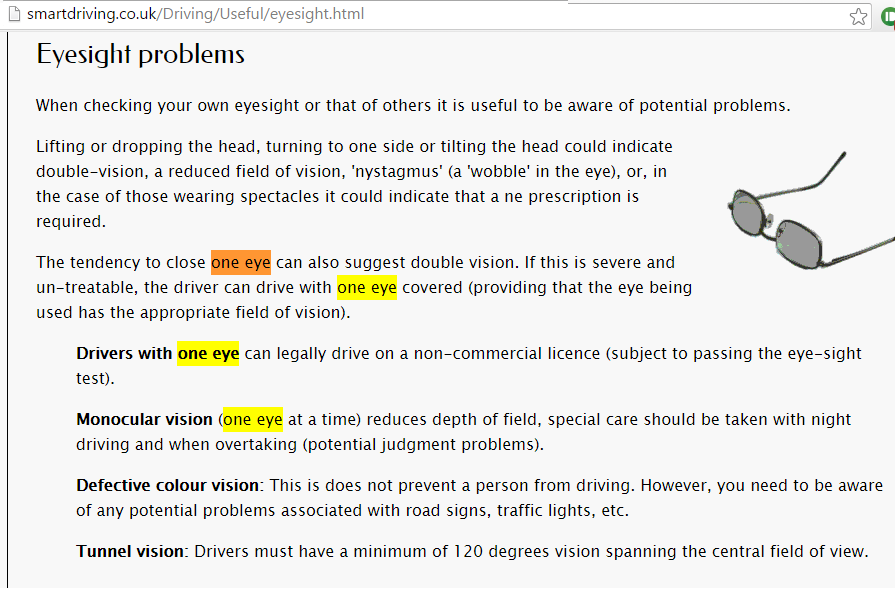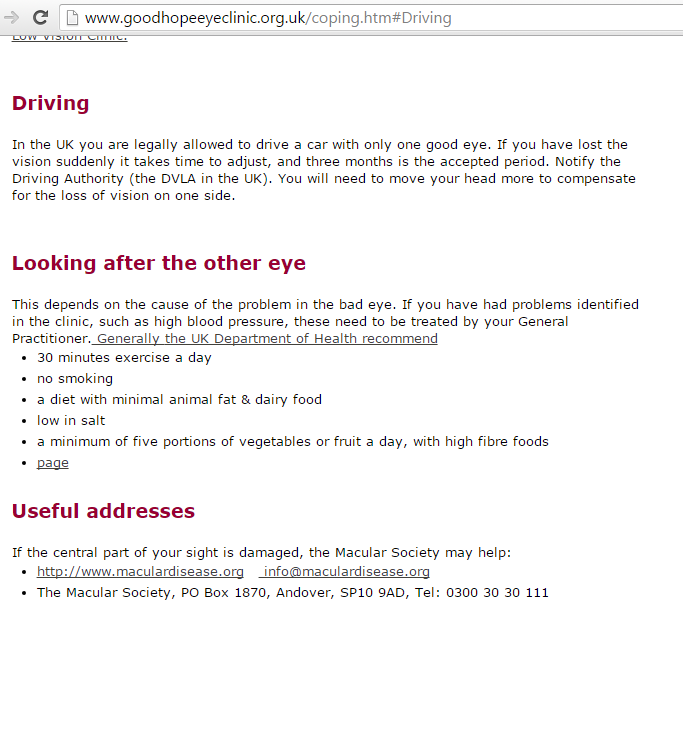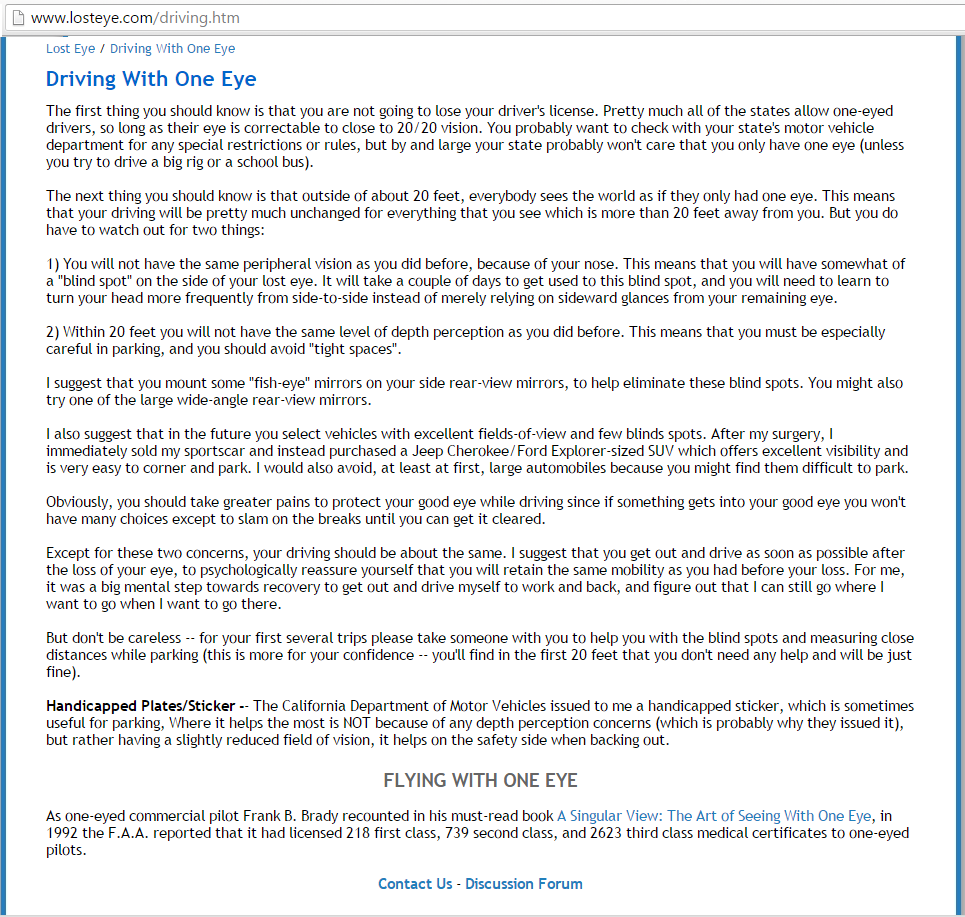 Update 2022!!
Alhamdulillah, I have got a driving license in Dubai-UAE, which is one of the toughest driving licenses to get in the world.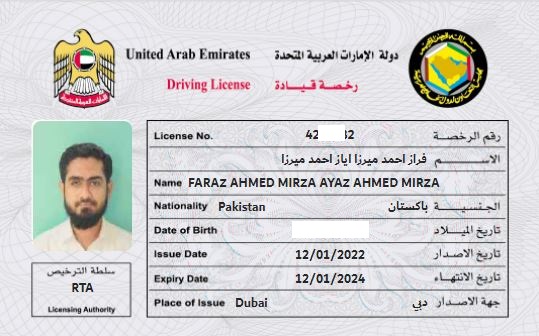 I am comfortably able to drive my car so can you, please don't lose hope after losing an eye.
Always stay positive, Insha Allah you will achieve success in this world and hereafter if you strive hard and be on the righteous path.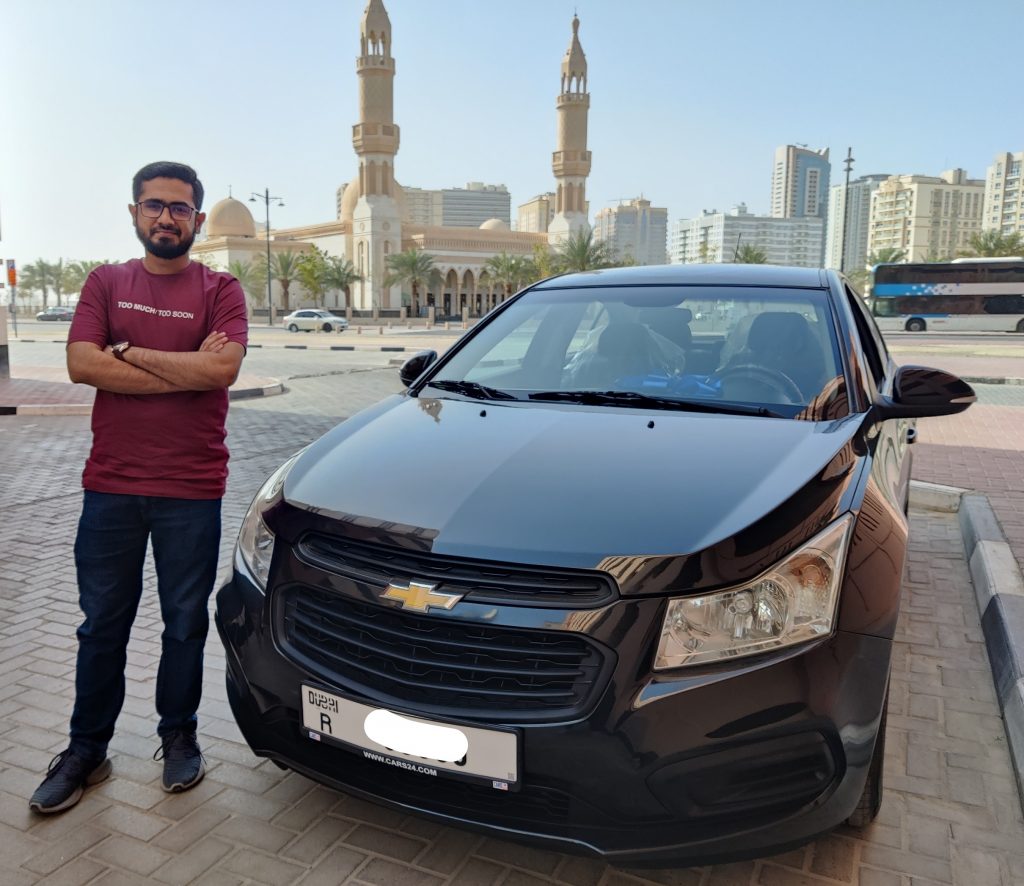 Fitness Certificate Links
Police Hospital Certificate
Civil Hospital Certificate
Services Hospital Certificate
References for Laws of UK, USA and India
http://www.goodhopeeyeclinic.org.uk/coping.htm#Driving
https://www.gov.uk/monocular-vision-and-driving
http://smartdriving.co.uk/Driving/Useful/eyesight.html
http://www.ask.com/government-politics/can-drive-blind-one-eye-f1f9b8bccc1f80d6
https://www.nidirect.gov.uk/articles/guide-visual-standards-drivers
http://www.losteye.com/driving.htm
http://ccptraffickyc.pk/physical-fitness-test.htm
[1] The real name is not published for the privacy of the person.